User-generated content (UGC) gives businesses a fantastic opportunity to market their products while cultivating client relationships.
Additionally, it has been noticed that UGC increases conversion rates. According to research, shoppers who read User-Generated Content prior to making a purchase have a conversion rate of 5.6%, compared to just 2.1%for those who did not.
This statistic demonstrates the potency of User-Generated Content, but the majority of brands only employ it in social media advertising. This strategy can, however, also be applied to improve the effectiveness of email marketing initiatives.
However, you need to ensure that your content is on point and UGC can be the best fit to help you reap more results from your Email campaign.
User-Generated Content - A Brief Introduction
User generated content is any unpaid content that customers post on social media sites about a company's goods or services. Images, videos, blogs, reviews, and testimonials are all examples of User Generated Content that can be used.
Let's make it easier for you – Suppose you visit a coffee shop and enjoy its ambiance and the coffee flavors so much that you click a picture of it and upload it on your social media. You just created a piece of User-generated content and it is unscripted and untouched. The rawness of UGC is what makes it enhance its beauty and effectiveness even more!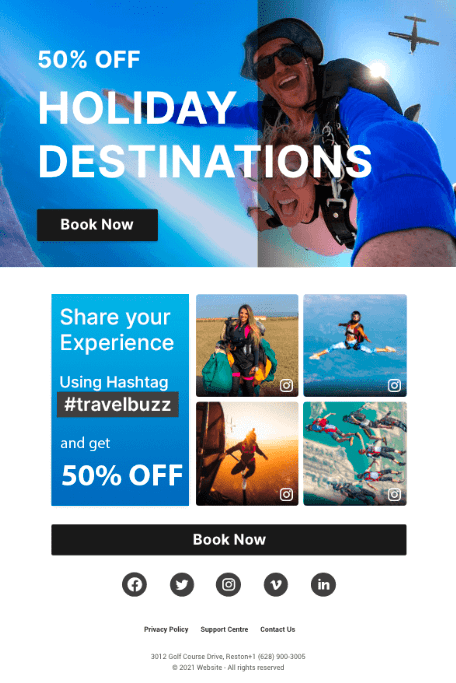 Realizing the importance of this brilliant form of content, smart marketers have started to showcase the valuable words of their customers on marketing touchpoints like websites, digital displays, Email campaigns, etc.
Different Ways To Include & Generate UGC In Your Email Marketing Strategy
Ask Customers To Create UGC On Emails
To use UGC in your email marketing campaigns, you must first gather it. Let's start with the basics.
You can do this by asking your customers to contribute in a straightforward and honest manner.
Personalize your customer feedback request email,  create a number of email templates to collect client feedback, and most importantly, let customers know what kind of content you anticipate from them, such as written reviews, images, videos, success stories, etc.
Here's a fun fact – 60 percent of customers want more brands to advise them on the kind of User-Generated Content they should be looking for!  Additionally, to your email subscribers, send surveys on your customers' happiness with your products, etc. Always include a comment box that is free so that users can express their honest thoughts and experiences.
Include Reviews and Ratings in your Email campaigns
User-generated content has always been dominated by visuals, but marketers can also find other types of UGC.
Though primarily text-based, user reviews and testimonials can have an impact on brand followings just as much as visuals.
Why restrict UGC marketing to solely visual content when emails can also be sent as text and still reach the intended audience?
A great text review or customer feedback from a satisfied customer can be just as persuasive, despite the fact that photographs and videos are more appealing and can draw more attention.
The environment in which we now live has changed, thus it is now important to show consumers how current customers feel about a company's brand or product in order to have a greater impact on them.
For including reviews and ratings in your email campaigns, you simply need a review platform like Taggbox.
The greatest strategy to gather content from users is to have contests since they encourage users to share their photos and videos.
As a pleasant method to interact with loved ones, brands, and other people, competitions are also very popular.
To attract participants to their competitions, businesses don't need to give enormous or pricey prizes—a straightforward prize suffices.
Since social media platforms offer a broad organic reach to a range of demographics, marketers frequently organize user-generated content (UGC) contests there to gather more content.
Additionally, it's simple to start competitions on social media platforms like Facebook, Instagram, etc. that have the potential to go viral.
Personalization has grown in relevance in the marketing community over the past year, especially in email marketing.
To strengthen interactions between brands and customers, newsletters and email correspondence should be personalized.
The personalization of email messages can be enhanced with the help of User-Generated Content.
You can include ideal customer profiles. With these profiles in hand, marketers can sort through the information generated from those users to select the most relevant ones to target subscribers.
Incorporate UGC In Abandoned Cart Emails
One of the most important concerns in the world of e-commerce, for both B2C and B2-B businesses, is cart abandonment. A majority of company niches are impacted. 80% of online buying sessions were abandoned in 2020–2021, according to studies and research.
To remind customers to complete their transactions, B2C and B2B email marketers send automated emails. Including UGC in abandoned cart emails will make these communications more appealing and fruitful.
Take the product list in your potential customer's shopping basket as an example. Add customer photos to it. Their motivation to complete the purchase will be increased by this. UGC also encourages social proof and customer validation which are two elements that might persuade even the least driven potential customers to revisit their abandoned basket.
A Quick Tip Before Using User-Generated Content
Always Ask for permission before using UGC
Make it a point to ask your audience's permission before sharing any user-generated content (UGC) or reposting it on Instagram. Say how much you adore their content and that you want to spread it in a nice message to them in the comments or DMs on their posts. The majority of clients will gladly consent to your request.
Or, you can use a UGC rights management platform that can help you acquire rights rightfully from your existing customers. This way, you will be liberated from landing into legal trouble and free from any legal consequences.
Key Takeaways
Customer sales can be increased by using User-Generated Content to bolster email campaigns.
Brands may help present their products in actual environments and foster a sense of trust among consumers, both of which can increase clicks and sales, by including the content made by existing customers.
The methods for adding User-Generated Content (UGC) into email marketing that was outlined above will increase the effect of brand newsletters and campaigns, resulting in increased sales and better brand-client connections.