Introduction to customer re-engagement
Re-engagement is the practice of sending repeated communication to users who have previously expressed a desire to transform into potential customers. Re-engagement emails mostly carry marketing content hinting users to finish their last purchase intent. Because these emails are highly personalized, it motivates the users to convert faster. 
You can also try re-engagement with users who have deleted or stopped using your app. For example, classifying users who have your app installed but haven't accessed it within a specific duration is a great micro-segmentation idea for re-engagement. You may target these users with a series of re-engagement emails that may encourage them to return to your app and extend their lifetime value.
In this tutorial, you will learn A-Z of re-engagement emails and how to use that to win back more customers for the business.
What is covered?
Importance of re-engagement in a business
For most industries, re-engagement is a vital marketing tactic. It is a successful approach that prioritizes advertising spend on people who have been identified as being more likely to convert based on their past intent. Consequently, most marketers who use ad spend to re-engage clients get a greater return on investment than most other digital channels.
Re-engagement is a strong branding and conversion optimization technique that works best when combined with a larger digital plan that includes advertisements across all digital channels, including online, email, mobile web, and in-app.
Google, for example, has tools designed particularly for re-engagement. Google App Campaigns for Engagement assists advertisers in engaging current app users with relevant advertising to get them to return to that app. When done effectively, re-engagement emails may reduce churn while increasing incremental engagement. In terms of deliverability, re-engaging your inactive subscribers may help you improve or maintain your inbox placement rates too. Often, if your overall level of engagement falls, ISPs are more likely to flag you as a low-quality sender, block you, and aggravate your engagement difficulties.
What is a re-engagement email campaign?
A re-engagement campaign is a bring-back series of emails sent to inactive subscribers. The goal of a re-engagement email is to get people to socialize with your emails. Cart abandoned emails are the best example of a re-engagement email generated because of subscriber's inactivity on the website.
They play an essential role in the sales funnel by allowing leads who have shown a lack of interest to get a head start. Re-engagement emails direct the contacts in the right direction, maintain healthy ties, revive dormant contacts, and recoup lost money.
Types of Re-Engagement Emails
There are different types of re-engagement emails that address an extra level of inactivity, hesitation, and disengagement among the subscribers. In general, there are three types of re-engagement newsletters:
Win-Back Emails

Reactivation Emails

Customer Appreciation Emails
1) Win-back emails 
A win-back email campaign is a set of communications designed to re-engage customers. You send these email sequences to former customers who haven't purchased from you in a while in the hopes of bringing them back to your platform. It is a message that you may send to inactive subscribers—people who have previously engaged with your organization (purchased, read emails, visited your website, etc.) but have ceased doing so for various reasons.
Types of Win-back emails:
Friendly Reminder

We Miss You Email

Active Incentive Email

Last Chance Email

Goodbye Email
2) Reactivation email
A reactivation email, also known as a re-engagement email, is sent to re-engage inactive subscribers or contacts who no longer engage in your email campaigns or connect less frequently. A reactivation email is primarily sent to a subscriber who has not associated with your brand or read your emails in the last three months. Reactivation emails are mostly triggered based on the subscriber's activity. 
Types of Reactivation emails:
Abandoned Cart Emails

Latest Offer Email

Recommendation Email

Feedback Email

Survey EmailEmail and others
3) Customer Appreciation Emails
Customer appreciation emails are those that you send to thank your most loyal clients. Without a doubt, a firm is nothing without its consumers. Expressing appreciation for having your clients and email subscribers can improve your customer relationship and ignite their devotion to your company. It is important to maintain connections and re-engage with customers when they are beginning to lose interest in your brand. 
Many organizations create specialized retention teams within their organization to deal with this segment of customers who are continuously losing interest in your brand.
Types of Customer appreciation emails:
Thank You Email

Welcome Email

Special Day Email

Holiday Email

Anniversary Email

Milestone Email

Exclusive Offer Email

Birthday Email

Gratitude Email
Advantages of a re-engagement campaign
Customers quit connecting with companies because they believe the company doesn't care about them. When you execute a re-engagement campaign, you not only show your subscribers that you desire their business and pull them back into your digital marketing funnel. You also demonstrate to them that you care enough not to let them slip between the gaps. 
Apart from showing concern for your subscribers, re-engagement efforts assist your business by keeping promotional emails out of "spam" bins. ISPs and email providers flag email addresses with poor engagement rates as low-quality senders, causing these communications to be flagged as spam more frequently. This impacts your capacity to contact subscribers who may be interested in your products and services.
How to write re-engagement emails?
In this section, you will learn the fundamentals of writing a powerful re-engagement email.
1) Give your connections a purpose to stay engaged.
It could be anything related to product updates, new products on sale, or exclusive offers for subscribers. You should convince them of the significance of being subscribed. 
You may likewise express how you've used their input and provide credentials about how astonishing it is that they're yet with you! 
"Always remember – regaining inactive customers is less expensive than obtaining new ones."
2) Express your appreciation for your contacts.
Thank your connections for sticking with you to demonstrate how much you respect them. You can also show how important they are to the firm by including personal notes from various members of staff who have previously engaged with them to demonstrate that the people behind the business care.
3) Get emotional. 
The best re-engagements are those triggered automatically.
Make an emotional appeal by demonstrating how much the firm would miss its consumer if they unsubscribe. This might be a message from the CEO or any engaging visuals portraying what it's like to be removed from your list and lose out on all of the excellent material you share with them. This email should demonstrate that while your customers may have forgotten about you for the time being, but you have not. There is invariably the opportunity that they may return in the future. At the very least, they know you care enough about them to write an email reminding them.
4) Ask questions.
The majority of individuals find email challenging to use, particularly the unsubscribe procedure. Provide a mechanism for your readers to contact you to hear about new material or provide comments on past emails.
Inactive contacts will recall why they joined your list if you ask them questions. Questions can also lead them down a route that will assist you in resolving their issue or give important information into what is preventing them from connecting with your content and purchasing your products/services.
5) Incorporate a CTA.
Don't leave them hanging if you already know they're "inactive."
Let them know if they still want to hear from you and learn about your new content or be alerted of a deal. One method is to provide a CTA button to click if they still want to hear from you – "If you want to hear from us again, click here."
It's a straightforward and surprising way of expressing, "Yes, I'm still talking to you." This sort of CTA also has the added benefit of helping to reactivate inactive contacts.
You have zero to lose by placing this statement at the bottom of an email since even if no one clicks, they will most likely unsubscribe from your list the following time.
6) Offer a giveaway. 
Provide a freebie. The goal of reading engagement extends beyond simply encouraging people to read your emails. You want people to interact with your brand across numerous platforms. Consider providing an incentive by giving a giveaway in return for the reader performing a specific set of tasks.
A giveaway can be as easy as asking users to click a link that leads to a printed discount or sending them some free samples in return for following you on social media.
7) Segment your inactive subscribers.
Segmentation is the first step in any successful email reactivation plan. Subscribers who have not engaged with your emails within a specified time frame must be grouped and placed on a different email list.
Depending on what you provide and how frequently you send emails, "inactive" will imply various things to different businesses.
Inactive subscribers may be easily segmented by whether they have read your emails or clicked on any offers in the past six months. Anyone who falls into that group is an inactive subscriber who must be included in your re-engagement efforts.
8) Engaging subject lines.
Your subject lines are the prime thing your subscribers will recognize. If you want users to read your emails, you must create subject lines that pique their interest.
You can utilize terms that spark consumers' attention and curiosity, such as "deal," "offer," "new," or "update." You may also play on the subscriber's fear of losing out by stating that an offer is available for a short time. You may also try adding the recipient's name in these email subject lines. This gives the impression that you are communicating directly to them. Emojis can also be helpful. When you utilize relevant emojis wisely, you get more excellent open rates.
Email marketing tools like Mail250 are helpful in designing and sending hyper-personalized re-engagement emails to customers.
Benefits of using email to re-engage customers
Email is the most cost-effective medium to re-engage with your customers. Here are few benefits of using re-engagement emails to connect with your customers:
1) Reactivating idle subscribers: Re-engagement emails help in reacquiring dormant subscribers with the brand. A captivating email subject line that incentivizes subscribers to click, along with additional incentives inside the email itself, can revive consumers you thought were gone forever.
2) Recognizing lost subscribers: Re-engagement efforts not only help in the activation of all dormant clients but also helps solidify your existing subscriber base too. These campaigns assist you in identifying lost subscribers. When emails are sent just to active subscribers, your analytics – open rates, click rates, and other metrics are more significant than when inactive subscribers are included in the list.
3) More active marketing decisions: By aggregating the number of active subscribers, you may get a better idea of how well your company's marketing efforts are performing. As a result, re-engagement emails may assist you in developing better future marketing efforts.
4) More increased sales: You may create more revenue if you segment active/inactive members and optimize your marketing technique. Email marketing with a smaller but more engaged audience links loyal consumers with the goods they wish to buy.
5) Better sender reputation. If you send emails regularly and your subscribers rarely interact with them or flag them as spam, your sender reputation, a numeric score (ranging from 0 to 100) provided by email service providers (Gmail, Outlook, etc.), suffers. The more moderate your number, the more likely it is that emails from that address will be marked as spam, or they will not be delivered at all. However, if your firm has a high sender score, your emails are more likely to reach customers' inboxes. Sending re-engagement emails can boost your sender reputation and email delivery rates too.
Best re-engagement email examples
In this section, you will learn some of the best re-engagement email examples in the industry.
1) Paul Mitchell 
Do hair products ever make you feel this depressed? Sending a re-engagement email like this is a highly successful approach by playing on their subscribers' heartstrings. 
John Paul Mitchell Systems is an American company that produces hair care products and styling equipment under many names. Paul Mitchell reminds them why they signed up to hear from them in the first place and helps bring lapsed consumers back into the fold. Paul Mitchell begins their re-engagement email with a dynamic 'We hate goodbyes,' reminding the recipient that this is the last email they will get from them. They feature their items with a sad or anxious expression and direct users to a strong CTA to stay enrolled.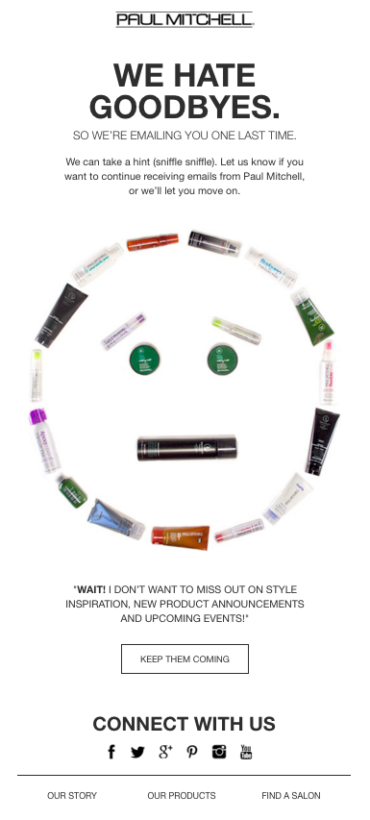 2) Loft
LOFT is all about style. Women's clothing "The loft" captured much attention in its April Fool's Day promotion, featuring a captivating GIF and an even better deal. They included non-sales or special-offer information on the spring horoscopes. It's something that many retail businesses overlook, yet it's an excellent method to increase brand loyalty and get consumers excited about your interactions.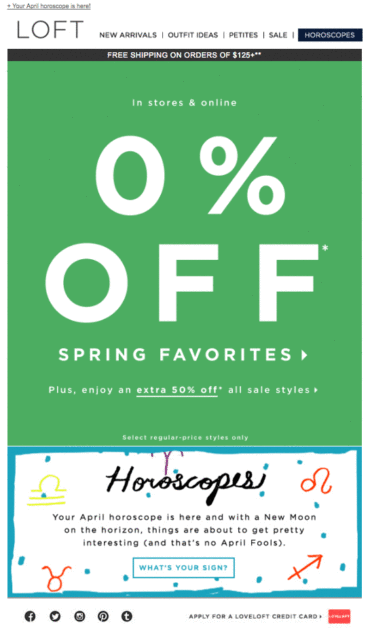 3) Starbucks 
Starbucks is known to have a comparatively more powerful loyalty program amongst consumers in the coffee shop industry. Starbucks remembering their customer's birthday makes them feel special, and they relish it. In an interview, Starbucks stated that they would hate to miss their customer's birthday. 
Fortune magazine ranked Starbucks the fifth most admired business globally in its annual rankings, which were revealed on Friday. Starbucks was also named the best in the food and beverage business. Offering a special gift might excite the interest of your inactive contacts and entice them to interact with your re-engagement email to collect their prizes.
The anniversary re-engagement email below has a fun design and indicates that the sender cares about the consumer.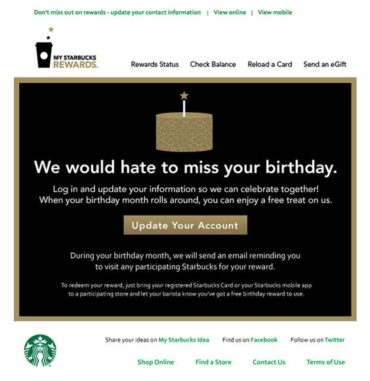 4) Jack threads 
Jack Thread's email list seems like entering a beautiful kids club, particularly communications that emphasize uniqueness. Their promotional approach also does a fantastic job highlighting the benefits of browsing for their online marketplace, enticing users to begin purchasing from the very first touch. The email layout is visually appealing and informative, with a clear CTA encouraging consumers to order their favorite selections.
5) ModCloth
ModCloth's email offers a discount as a six months anniversary present. Who would not want to be made to feel particularly special? 
They are having very well control over their email database and subscriber's activity logs. This enables them to send more productive emails at the right time. Their time-sensitive re-engagement emails bring missed visitors back to the website, where they may use their voucher to place an order and return to the list of active consumers.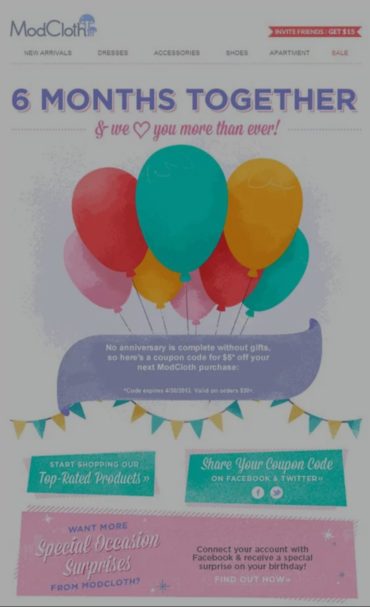 6) ReturnPath 
ReturnPath creates a GIF animated re-engagement email that allows users to precisely choose their preferences, showing that they generally choose your communication choices with two charming drawings and generally corresponding CTA buttons for alternatives—indicating that the return path has explicitly created a new way for you to decide whether or not to stay on the mailing list.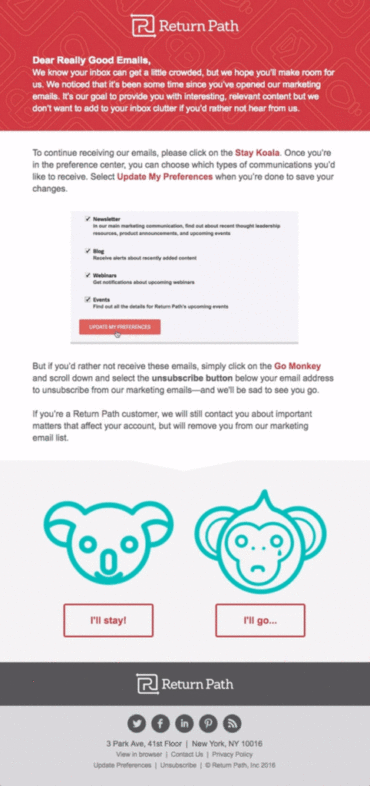 7) Urban Outfitters
In ideal conditions, with the correct promotional spin, comedy can be an incredible sort of successful method to reignite interest in your company in a significant manner. 
Urban Outfitter's re-engagement email is the right combination of humor and emotional appeal. Their re-engagement emails will most likely stand out from their standard marketing emails because of their creative, friendly chat approach to attract and engage users in reading their emails.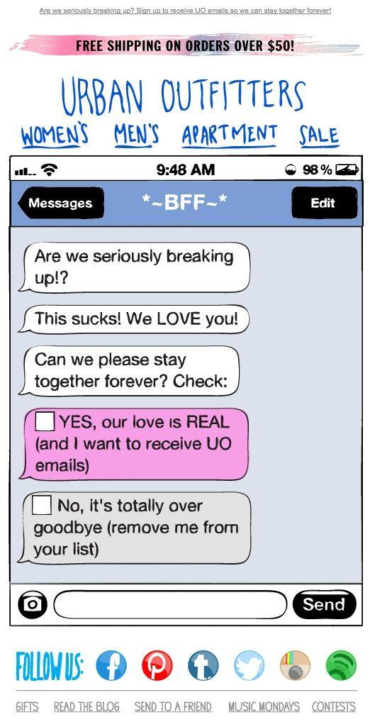 8) H&M
H&M devotes a significant amount of effort to promotion and advertising. Discreetly, direct marketing is employed as part of H&M's campaign. While the lockdown and social distancing during the pandemic, online retail therapy was undoubtedly a source of consolation for people, but nobody turned to H&M.
In this email, the clothes store offers a 15% discount on the next purchase as an incentive to "remain together," then provides accessible function buttons beneath its message to make it easy for users to utilize.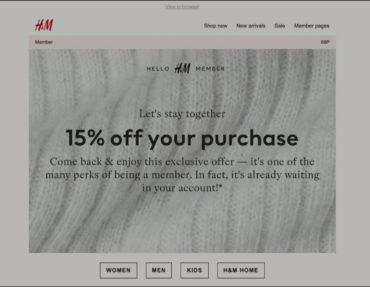 9) Hotstar 
It became more accessible for people to view shows at their leisure rather than being restricted by television broadcast schedules. The platform also boasts nearly the most significant penetration of non-paying users. The streaming service utilizes Christmas nostalgia in this re-engagement email to re-engage idle users.
Delivered during the Christmas season, the platform ingeniously displays some of the famous holiday movies, TV series, and specials it has available, which you can enjoy as well if you revive your membership. It's a great example of giving suitable material at the right moment.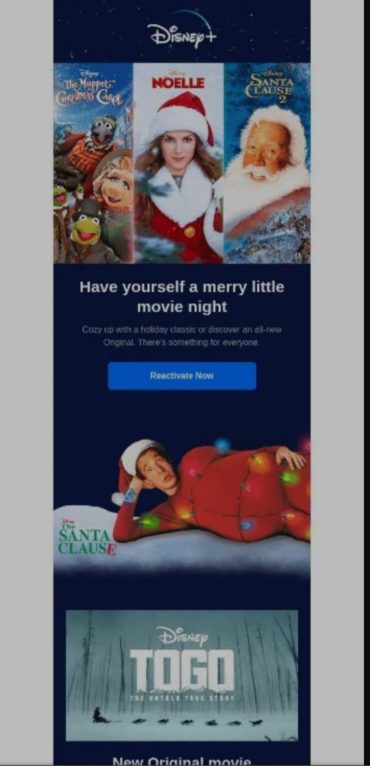 10) Birchbox
Birchbox's dual-CTA message is one of the greatest we've ever seen. It gives the subscriber choice over their experience without making the email look overly crowded or unfocused. They use attractive visuals to make the template look more eye-catchy and have a clear call to action, asking their subscribers to buy their box and redirecting them to their website.
Conclusion
Re-engaging your idle users can improve or at least help you manage inbox placement rates for your emails. When done well, re-engagement emails can reduce list churn rates and boost incremental engagement. Customer re-engagement is a vital part of customer service. According to an HBS study, even a 5% increase in customer retention may raise your earnings from 25% to 95%, according to one study says of an online marketing agency.